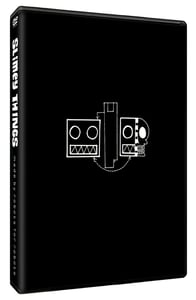 $

20.00 - On Sale
SLIMEY THINGS' MADE BY ROBOTS FOR ROBOTS EP.
DVD and CD PACK!
with songs / videos:
MBRFR INTRO
UBER-PRON
DO THE QUANTUM BOOGIE
MADE BY ROBOTS FOR ROBOTS
SHE CAME FROM PLANET NEBULON
VIRTUAL MUZAK
ROBO-RHONDA
NANO-DAVE
PROTO-KID
SAM TRAPPED INSIDE A WORMHOLE
THE THING FROM STUDIO # 3
THE SPOOKY VARIATIONS
YOU GET: 1 x audio CD + 1 x DVD.
MBRFR IN audio AND video!!!
DVD INCLUDES BONUS FEATURES INCLUDING LIVE TRACKS, SPACETOAST ERA VIDEOS, COMMENTARIES, MAKING-OFS AND MUCH MORE!
THIS IS THE DEFINITIVE SLIMEY THINGS PRODUCT!!!
Catalogue #: GRG702